Back in the majors for the first time since June, Pittsburgh Pirates pitcher Tyler Glasnow is fighting for the future. The Pirates' former top pitching prospect must prove he is better than he showed earlier this season.
The former Pittsburgh Pirates' No. 1 prospect is back.
ROSTER MOVES
The Pirates have recalled these players from AAA:
Johnny Barbato
Tyler Glasnow
Jack Leathersich
Edgar Santana
Jacob Stallings

— Pirates (@Pirates) September 10, 2017
Tyler Glasnow is back in the majors and ready to prove himself. The 2017 season did not begin as planned, as Glasnow went 2-6 with a 7.45 ERA, 1.91 WHIP and -1.2 bWAR in 12 starts before being demoted on June 10.
Glasnow is back with the Pirates to start and will get an opportunity to this week against a playoff contender.
Hurdle confirmed that Tyler Glasnow will start Wednesday in Milwaukee.

— Bill Brink (@BrinkPG) September 10, 2017
Though he'll pitch at hitter-friendly Miller Park, Glasnow will still be expected to give the Pirates a chance to win. He went 9-2 with a 1.93 ERA and 0.954 WHIP with Triple-A Indianapolis this season, but has always succeeded at the minor-league level.
Now, Glasnow must prove that the hype is real. The top prospect needs a strong start on Wednesday to earn another one this season and gain the confidence of his coaching staff. To do so, Glasnow must improve on three key areas that he struggled with in his first 2017 stint with the Pittsburgh Pirates.
Walk fewer batters
In his 54.1 innings pitched with the Pittsburgh Pirates this season, Glasnow walked 29 batters. The right-hander walked at least two batters in nine of 11 starts and walked three or more batters in a game five times. His 4.80 BB/9 is the ninth-worst rate in MLB among starters with at least 50 innings pitched.
When Glasnow was demoted to Triple-A, he struggled with walks some more. In his first eight starts, Glasnow walked multiple batters in all but one game. Over those 49.1 innings, Glasnow showed off his impressive stuff, striking out 73 batters. However, those 23 walks stuck out and overshadowed his success.
Since then, Glasnow has drastically cut down on his free passes.
#Pirates Tyler Glasnow final 7 starts at AAA Indy: 67 SO, 9 BB in 44 IP (1.8 BB/9)

— Joe Block (@joe_block) September 10, 2017
Perhaps the proper adjustments have been made. Glasnow only walked multiple batters in two of his final seven minor league starts. Additionally, Glasnow pitched at least six innings in all seven starts after doing so in five of his first eight.
By cutting down his walk rate, Glasnow lasted longer. At the major league level, this is crucial to success. Glasnow's stuff has never been questioned, but his command has. Wednesday, he's got to limit his walks. It's the easiest way to appease manager Clint Hurdle and pitching coach Ray Searage.
Get through the third inning
Third innings are to Tyler Glasnow what second rounds are to the Washington Capitals: painful.
Often times, the third inning is when Glasnow is facing batters for the second time of the game. Opposing hitters slash .308/.402/.571 in their first plate appearance against Glasnow. Those figures jump to .386/.460/.727 the second time around.
While hitters become more comfortable with Glasnow the more they see him, he needs to find new ways to become unpredictable. Whether that means changing about his first pitch to batters the second time around or something else, Glasnow needs a new plan of attack.
This will come through communication with Searage and his catcher. There's plenty of time in between innings to scout the upcoming lineup for the next inning.
How Glasnow does in the third inning will show how much he's learned in the minors with unpredictability and adjustments.
Improve fastball command
This season, Glasnow added a sinker to his major-league repertoire in addition to his fastball, change-up and curveball . As a result, he began throwing his fastball less, but at a higher velocity.
Even with the improved velocity, Glasnow's fastball run value significantly decreased from a year ago.
The improved velocity this season was a good sign, but that doesn't tell the full story. As with Chad Kuhl, the addition of another pitch can be pivotal to a turnaround. In many instances, it just takes time and patience.
Glasnow needs to trust his fastball. Despite the ineffectiveness of it this season, he's shown a lot of potential with it in the past. Last year, per Darren William, Glasnow did an excellent job of extending his delivery to gain extra velocity on his fastballs.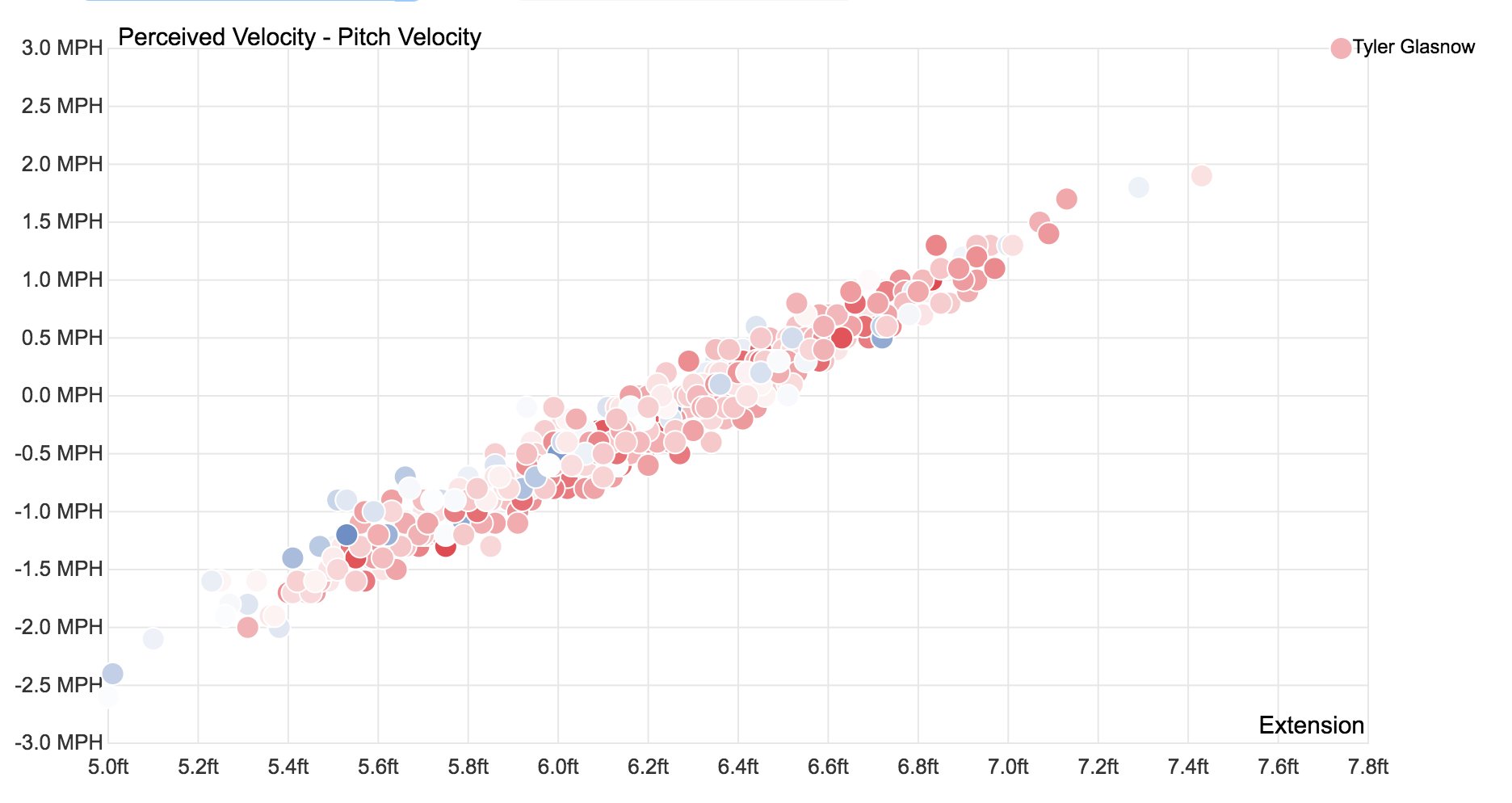 When a pitcher averages a fastball over 95 mph, you don't give up on him easily. In his next start and the starts beyond it, Glasnow must be allowed to test out his fastball and make mistakes. The Pirates are out of the playoff race, so Glasnow's mistakes don't hurt as much now as they did in the first half of the season.
Big start
A Wednesday start in mid-September for a sub-.500 club doesn't seem noteworthy, but it is. For someone of Glasnow's significance, it's huge. Not only must he pitch well to earn another opportunity, he needs to for his own confidence. At times in the first half of the season, Glasnow's eruptions were remarkably visible. In seven of his 12 starts, Glasnow had an inning in which he allowed at least three runs.
Starting off strong is vital for Glasnow. A five inning start in which he walks a couple but gives up no more than three runs is a solid step in the right direction. A performance of that caliber should earn Glasnow another start or two down the stretch. Failure to take steps forward likely means time as a long reliever exclusively for the rest of the month.
He's gone to the minors and improved in several areas, but now it's time for Tyler Glasnow to prove he belongs with the big-league club. The training wheels are off and Glasnow can't afraid to crash again.
Image Credit – Daniel Decker Photography